Δεν πρόλαβε να κλεισει το 3ο Φολκλορικό Φεστβάλ και το ΧΟΙ ταξίδεψε με τους χορευτές τους στη Λιθουανία!
Ο Χ.Ο.Ι. μετά την επιτυχημένη διοργάνωση του 3ου Διεθνούς Φολκλορικού Φεστιβάλ Ιωαννίνων, ταξιδεύει στη Λιθουανία για να πάρει μέρος στο 30ο Διεθνές Φεστιβάλ BALTICA 2017, το οποίο τελείται υπό την αιγίδα της CIOFF.
Ο Χ.Ο.Ι. εκπροσωπεί τη χώρα μας σε ένα απ τα πιο γνωστά και σημαντικά Φεστιβάλ της Ευρώπης.
Τα μέλη της αποστολής του Χ.Ο.Ι. έχοντας συναίσθηση της ευθύνης αυτού του ταξιδιού , δίνουν τον καλύτερο εαυτό τους ώστε να εκπροσωπήσουν επάξια την Ελλάδα, μεταφέροντας τον πολιτισμό και την παράδοσή μας στη μακρινή και φιλόξενη χώρα της Βαλτικής.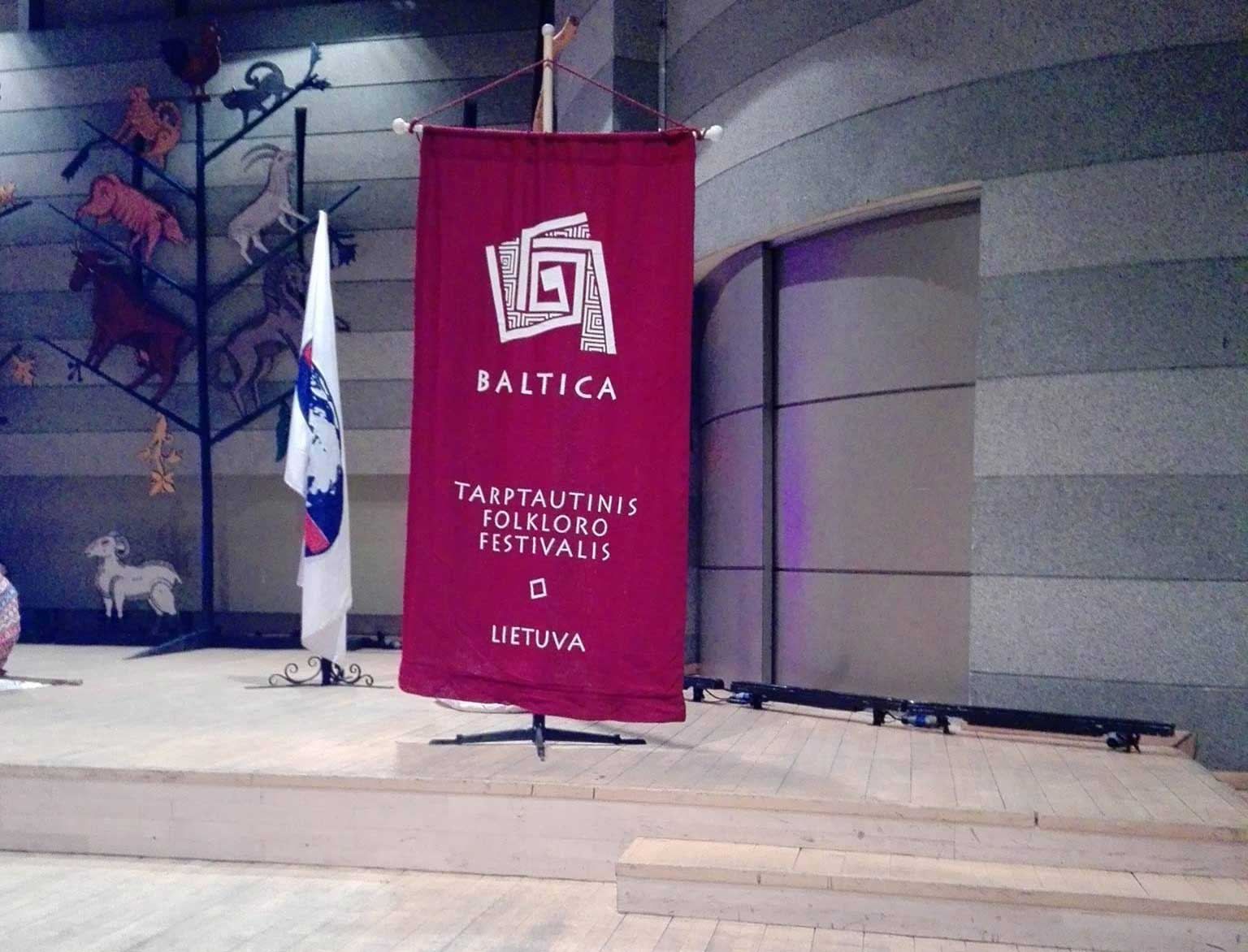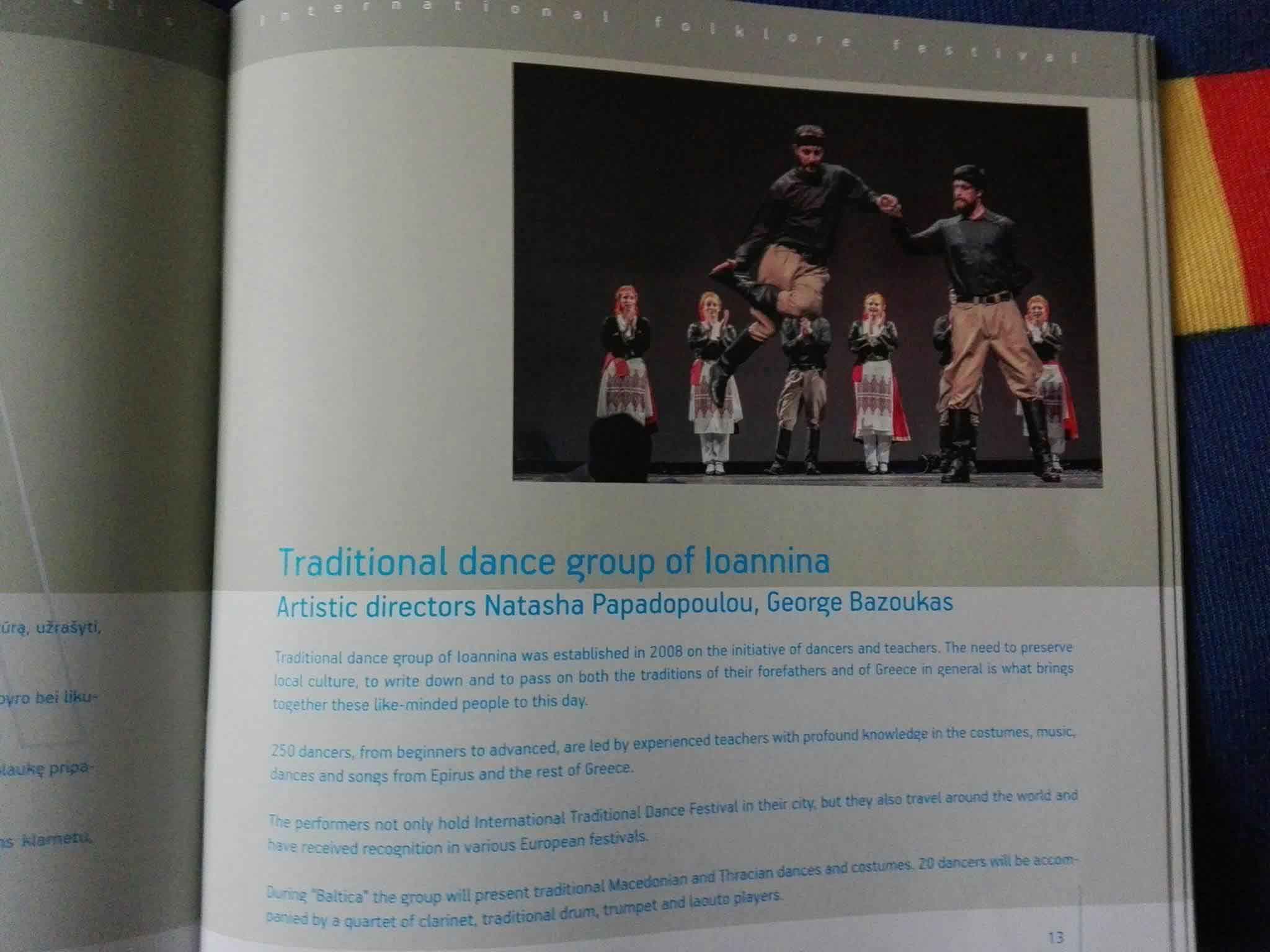 Αναλυτικά από την επίσημη σελίδα του BALTICA 2017
XXX CIOFF INTERNATIONAL FOLKLORE FESTIVAL

BALTICA 2017 IN LITHUANIA
We have pleasure in announcing to you, that the 30th International Folklore Festival "BALTICA-2017" will take place in LITHUANIA, on July 4 – 10, 2017.
This is most significant international folklore festival in our country and in theBaltic States. Every year, since 1987, it has been held in Lithuania, Latvia and Estonia. It has financial support from the state. Usually, from 7 to 14 folk groups from different countries of the world take part in the festival. This year guests from Latvia, Estonia, China, Ethiopia, France, Byelorussia, Iran, Japan, Norway, Poland, Slovakia, Georgia, Ukraine and others have been invited.
Nature is our home is the slogan chosen as the topic of the BALTICA 2017 Festival.
By this choice we seek to underline the understanding of the world and the nature as a living organism full of life, preserved and inherit in the traditional culture, and a human being sensing as an integral part of it, to talk about human activities, which express respect for the environment, harmonic relation to it and the fulfilling experience of the joy of life, which grows out of it.
In the performances we suggest to focus on:
animate nature – birds, animals and plants, their biological and mythical meanings (heralds, teachers, guardians, incarnations of ancestors, gods, spirits etc.);
(conditionally) unanimated nature, primarily, its expressions in the landscape (rivers, lakes, springs, forests, mountains, stones etc.) with all the attributed symbols of vitality, holiness or demon power, also the relation to the earth as a homeland of a human being, the provider of well-being and prosperity;
natural phenomena (rain, snow, dew, wind, thunder etc.) and natural elements (fire, water, air and earth), their physical and spiritual nature;
cosmic structures, understanding of the interrelation of cosmic bodies and their relation to human beings.This thematic context reflects the contemporary progressive tendencies of the relation between the human being and the nature and the world, discussed in the UNESCO documents, which emphasise the importance of intangible cultural heritage in the sustainable development strategies.
"BALTICA-2017" will try to include a wider variety of cultural aspects: folklore, unique arts and crafts, handmade articles and traditional cuisine. For that purpose, a small "Festival town" is planned to be built, with a stage for performances by folk groups, places for demonstration of traditional crafts and selling of traditional foods. Separate time for presentation will be assigned for each country. Festival activities will take place in the cities and in the countryside (on open-air stages, concert halls and in the streets).Among other activities, the participants will tour places of interest inLithuania, including cultural, historical and nature spots.
General conditions:
1. FOLKLORE PROGRAMME
"BALTICA" is a festival of authentic (A) forms of folklore (i.e., non-stylized, non-transformed), therefore we desire your traditional songs, dances, instrumental music, customs and traditional costumes. Groups present their program with a live folk music accompaniment. Using of recorded music is not allowed. Duration of the performances – 5, 30, 60 min. Folklore group – 5-20 persons.
2. TRADITIONAL CRAFTS
The most convenient demonstration would be of crafts that need no complex equipment: twig or straw-weaving, wood-carving, pottery, textile, etc. Articles can be brought or produced for sale.
We would like to invite up to 2 crafts-people representing the same region as the group with their own materials and means of production, and dressed in their national costumes. It would be desirable that they were able to decorate their working place at least minimally.
We kindly ask you to fill in the Application Form of craftspeople recommended, to prepare a few photos of each person with his/her articles.
3. TRADITIONAL CUISINE
Conditions for preparing foods will be provided by organizers. We kindly ask you to send us the recipes of foods proposed, which can be made using no complex equipment, as well as contact address of the consulting specialist who will take part in preparing and presenting foods for the further discussion on details.
4. BALTICA CINEMA – 2017
The aim of the cinema is to provide participating countries with the possibility of wider presentation of their folk culture with its peculiarities and the most characteristic features of their cultural heritage. Video films or movies recorded on DVD could include family traditions as well as those of work, calender circle festivities, rituals, mode of life and other fields of traditional culture of your country.
We kindly ask you to inform us about the films offered, regarding the following: the author, the title (original and English), duration, DVD format (HD, AVI), language (English), short annotation.
If any problems connected with lease or public presentation of the films arise, we ask to inform about it and to supply us with the addresses of the responsible officials, so that we can help you in solving this problem.
We kindly ask you to deliver the films two months in advance.
Expenses for travelling to Lithuania and back would be covered by the participating countries.
Expenses for meals, lodging and travel costs during the festival will be covered by organizers of "BALTICA-2017".
Participants are obliged to have their own health insurance policy. Organizers will not cover costs of health treatment and other results of misfortunes.